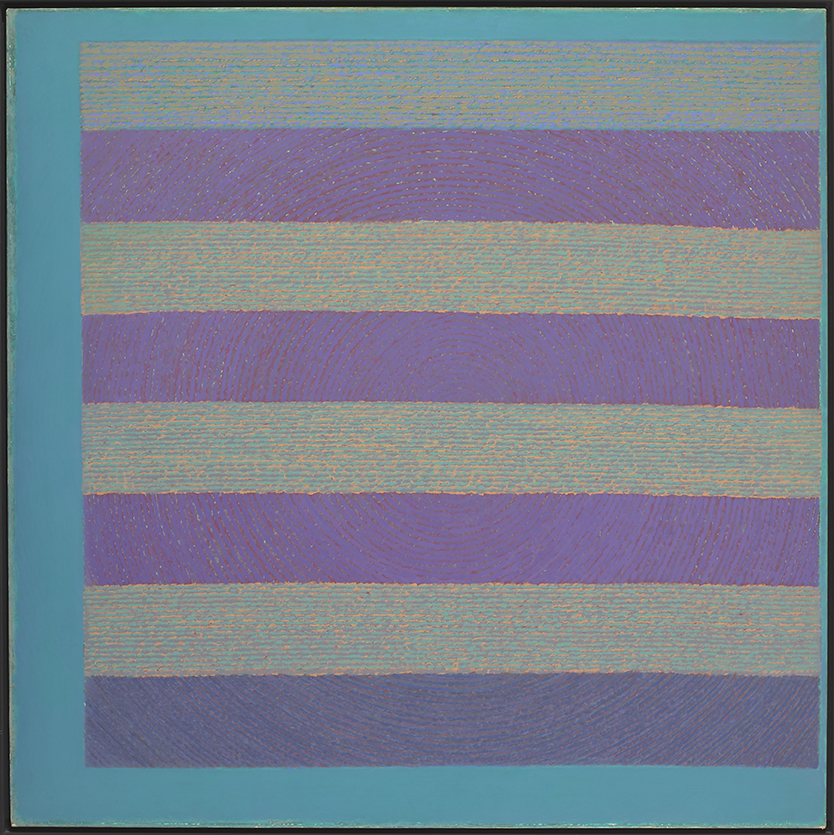 Field Language: The Painting and Poetry of Warren and Jane Rohrer
---
February 10 - April 25, 2021
Special Exhibitions Gallery, Second Floor
Organized by the Palmer Museum of Art, this major loan exhibition examined the art of Warren Rohrer (1927–1995) as it evolved in conversation with poet Jane Turner Rohrer (b. 1928), his partner of nearly fifty years. The dialogues Field Language traced flow between husband and wife, painting and poetry, and between tradition and modernism. Both Rohrers left the rural lifeways of a Mennonite upbringing to go "into the world."
Over the course of his four-decade career, from the mid-1950s to the mid-1990s, Rohrer's paintings became larger and more abstract, but his modernist progression remained consistently engaged with tradition. His abstractions evoke the fields of Lancaster County, Pennsylvania, where his family farmed for nine generations, while his mark-making recalls the meticulous, repetitive labor of farming and craftwork. Jane Rohrer's poetry offers narrative context and emotional depth to the experience of her husband's paintings, registering ambivalence about the relationship of modern artists to tradition and reflecting on the links between painting and poetry.
Featuring some fifty works, including paintings and works on paper, Amish quilts, and examples of Pennsylvania German painted crockery and furniture, Field Language invited visitors to consider issues of land use, the sustainability of rural communities and cultures, and our own relationships with agricultural landscapes, seasonal change, labor, and human need and desire.
Curated by Joyce Robinson, Assistant Director of the Palmer Museum, in collaboration with guest curators Julia Spicher Kasdorf, poet and Liberal Arts Professor of English, and Christopher Reed, distinguished professor of English and Visual Culture, the exhibition was accompanied by a multi-author illustrated catalogue available through Penn State Press.
Funding for the exhibition was provided through Penn State's Office of the Executive Vice President and Provost as part of the University's Strategic Arts and Humanities Initiative.
---
Digital Companion
To accompany Field Language: The Painting and Poetry of Warren and Jane Rohrer, the Palmer Museum of Art created a digital companion to the exhibition, which was on view from February 10 through May 30, 2021. Explore the companion and four thematic sections to learn more about Warren and Jane Rohrer and their work.
Digital Companion