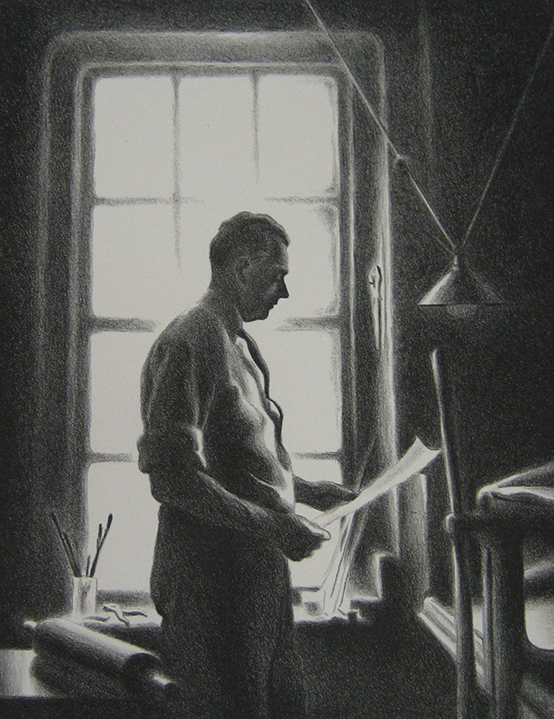 George Miller and American Lithography
---
June 18 - September 15, 2019
Special Exhibitions Gallery, First Floor
George Miller (1894–1965) played a critical role in the development of lithography as a practical medium for American artists in the early years of the twentieth century. The list of American artists attracted to his workshops reads as a veritable who's who of printmakers for whom lithography became an important means of expression. Drawn entirely from the museum's permanent collection, George Miller and American Lithography featured thirty-eight prints by an impressive roster of artists who worked with the master printer to create some of their most memorable images.
At the turn of the century, quality lithographic printing was accomplished only by commercial firms for whom small editions were not economically viable. Artists either traveled to Europe to have their work professionally printed or struggled with their own presses to master the complicated process. After privately helping George Bellows and others to realize their lithographs, Miller, then head of the proofing department at the American Lithographic Company, quit his position in 1917 to set up a workshop in New York City dedicated solely to fine art lithography. Over the next forty years, many of the country's leading artists—Thomas Hart Benton, Howard Cook, John Steuart Curry, Stuart Davis, Mabel Dwight, Don Freeman, Wanda Gág, Doris Lee, and Louis Lozowick, to name just a few—turned to Miller to assist them in exploring lithography's expressive possibilities.
George Miller and American Lithography was the first in-depth examination of the master printer's decades-long collaboration with notable American Scene artists in nearly half a century.
Organized by the Palmer Museum of Art.