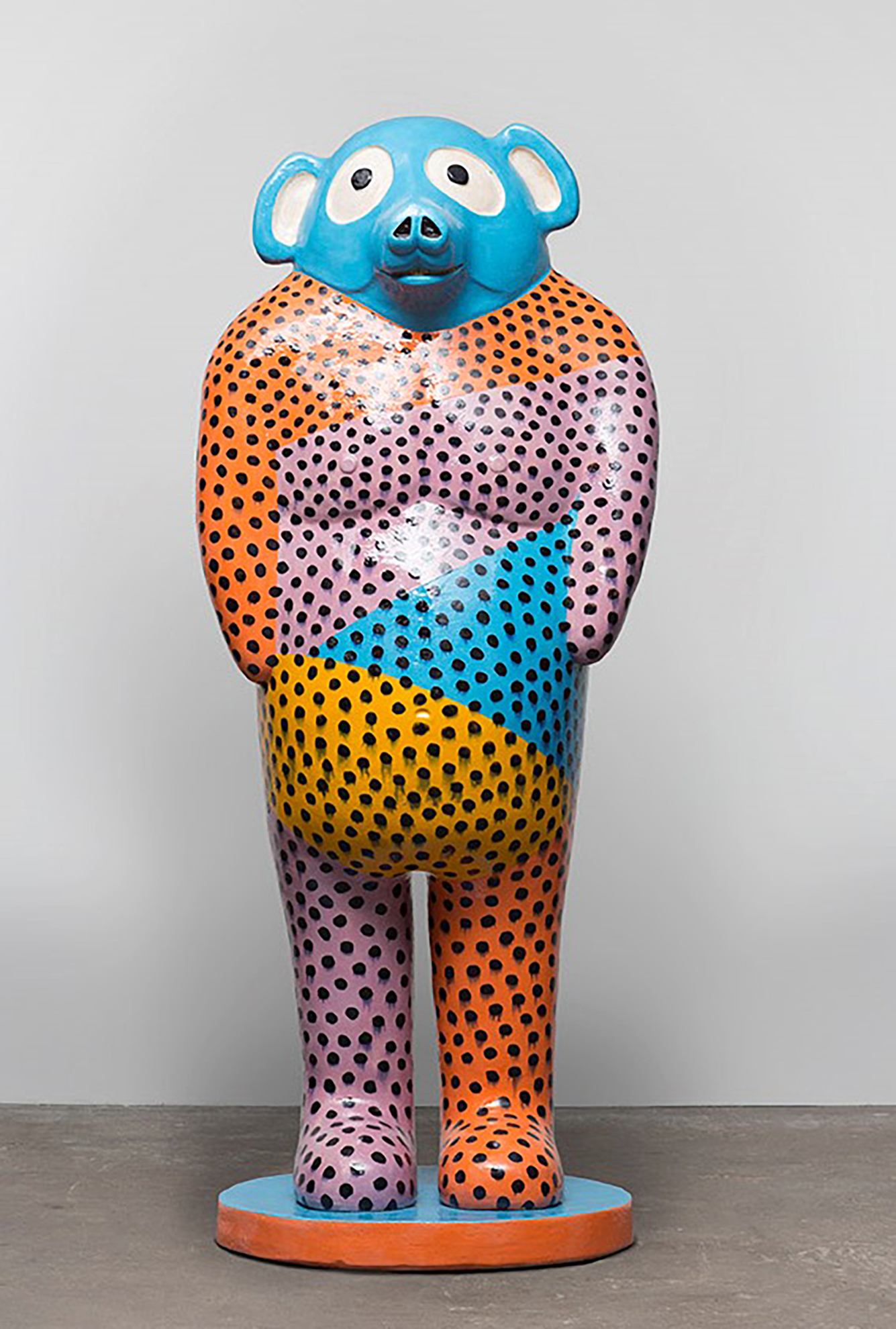 Global Asias: Contemporary Asian and Asian American Art from the Collections of Jordan D. Schnitzer and His Family Foundation
---
August 28 - December 12, 2021
Special Exhibitions Gallery, Second Floor
Drawn from the exceptional collections of Jordan D. Schnitzer and his family foundation, Global Asias examined the cosmopolitan, playful, and subtly subversive characteristics of contemporary Asian and Asian American art. The exhibition highlighted the work of fifteen artists of Asian heritage who draw on a rich array of motifs and cultural motivations to construct complex identities in a modern global context.
What do we mean by Global Asias? Is it a place? An idea? This exhibition moved visitors away from considering Asia as a geographical location and instead invited them to think broadly about how "Asia" has long served as an imaginative construct. By focusing on the conceptual dimensions of Asia—and in thinking about Asia not in singular but plural terms—Global Asias encouraged visitors to recognize the power of imagination in constructing Asia as a site of meaning across the globe.
The exhibition featured 45 works and was divided into three thematic sections. Exuberant Forms featured works that reshape and challenge conventional views of abstract art by exploring new materials, techniques, and metaphors. Moving Stories encouraged viewers to reflect on the experiences of migration, both within Asia and beyond. Asias Reinvented highlighted works that transform styles and motifs of traditional Asian art to engage, probe, and critique contemporary popular culture and politics. Combined, the works in Global Asias suggested the plurality and fluidity of "Asia" as cultural construct and creative practice.
Organized by the Palmer Museum of Art in association with the Jordan Schnitzer Family Foundation, Global Asias was guest curated by Dr. Chang Tan, assistant professor of art history and Asian studies, and embarked on a national tour in 2022.
For additional information on Global Asias, click here to check out the online media room. 
Support for the exhibition and related educational and outreach programs was made possible by a grant from the Jordan Schnitzer Family Foundation. Additional funding provided by Penn State's Office of the Executive Vice President and Provost as part of the University's Strategic Arts and Humanities Initiative.

---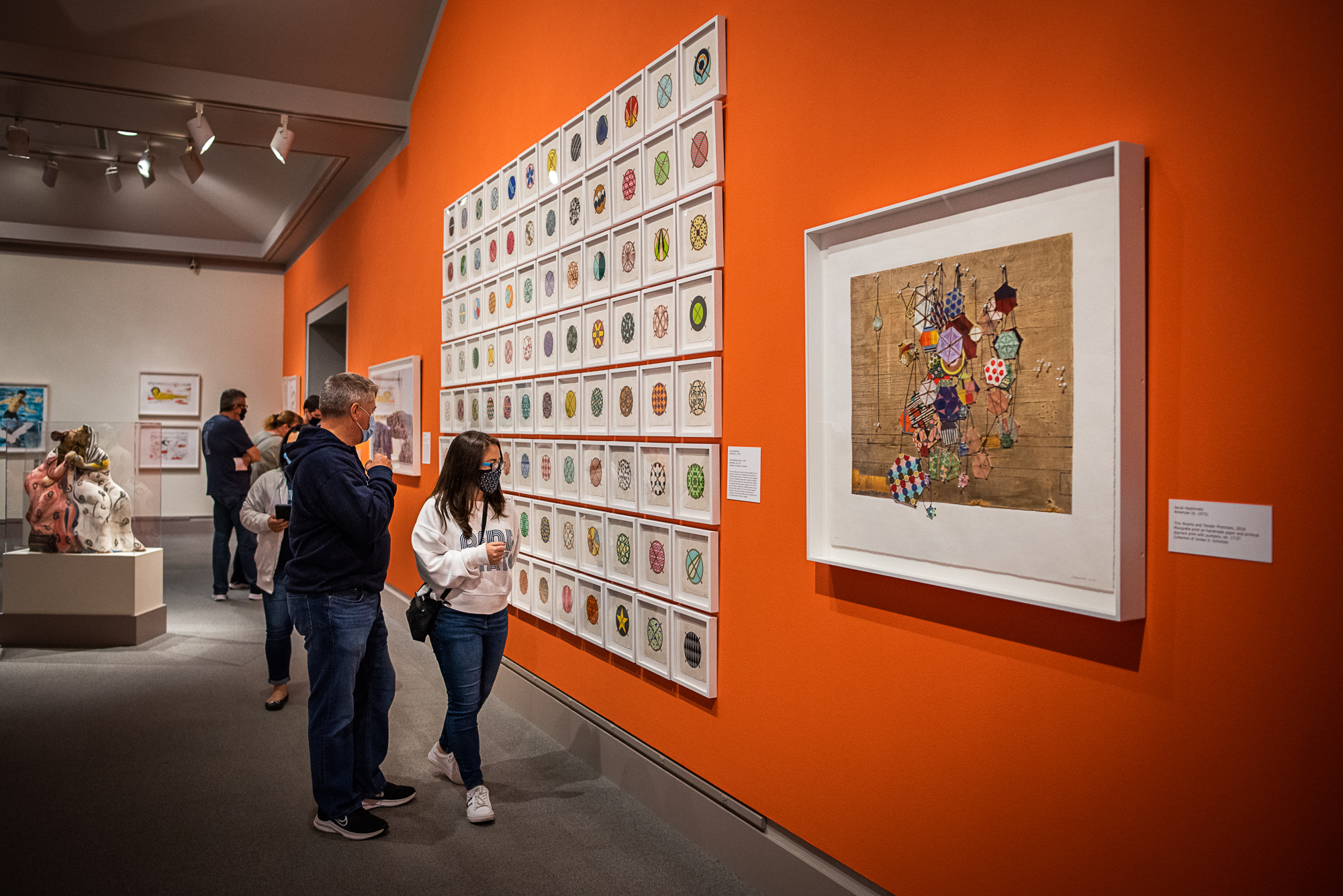 ---
Related Content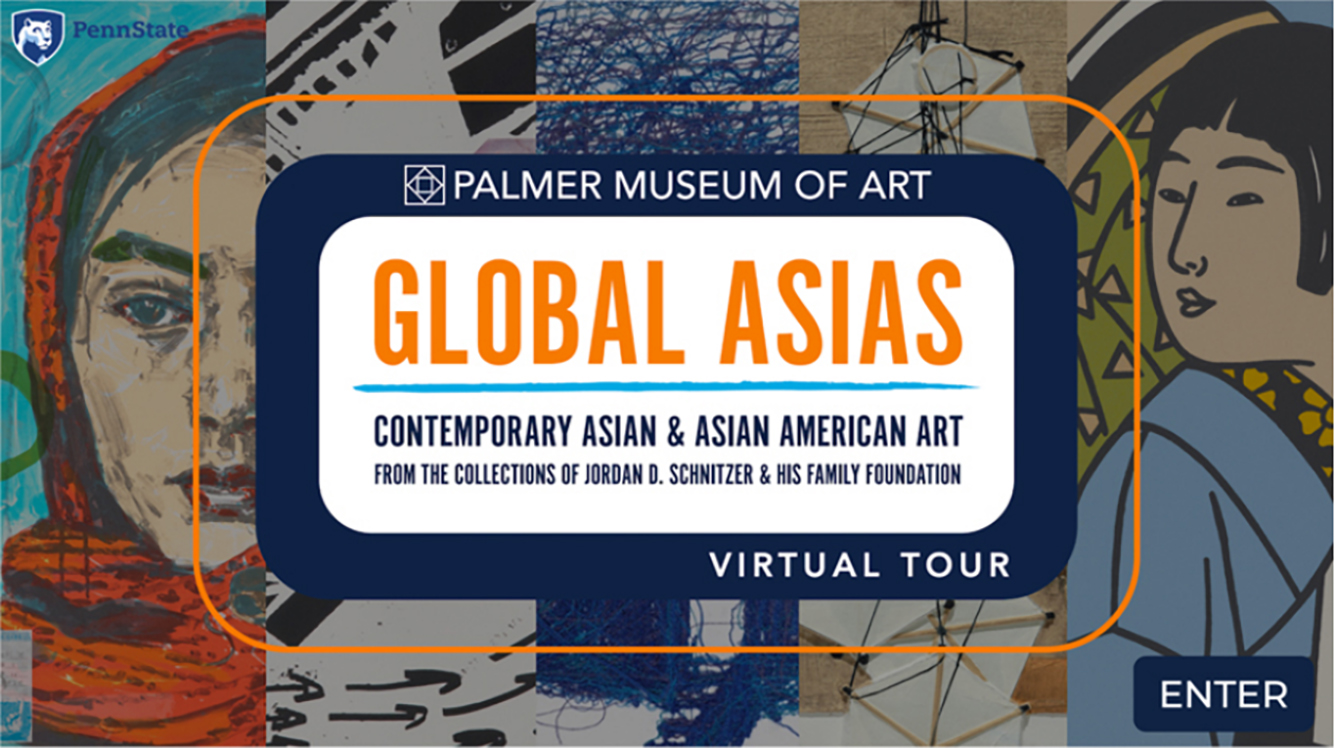 Virtual Tour: Global Asias
---
Explore Global Asias from home or at school! This web-based, interactive program features guided video tours of selected exhibition artists, in addition to an introductory overview by the curator. Learn about the "Global Asias" concept of personal and cultural identity in a contemporary world.
Artists featured include:
Jacob Hashimoto
Dinh 0. Le, Hung Liu
Takashi Murakami
Roger Shimomura
Do Ho Suh
Rirkrit Tiravanija. 
Click here for the virtual tour.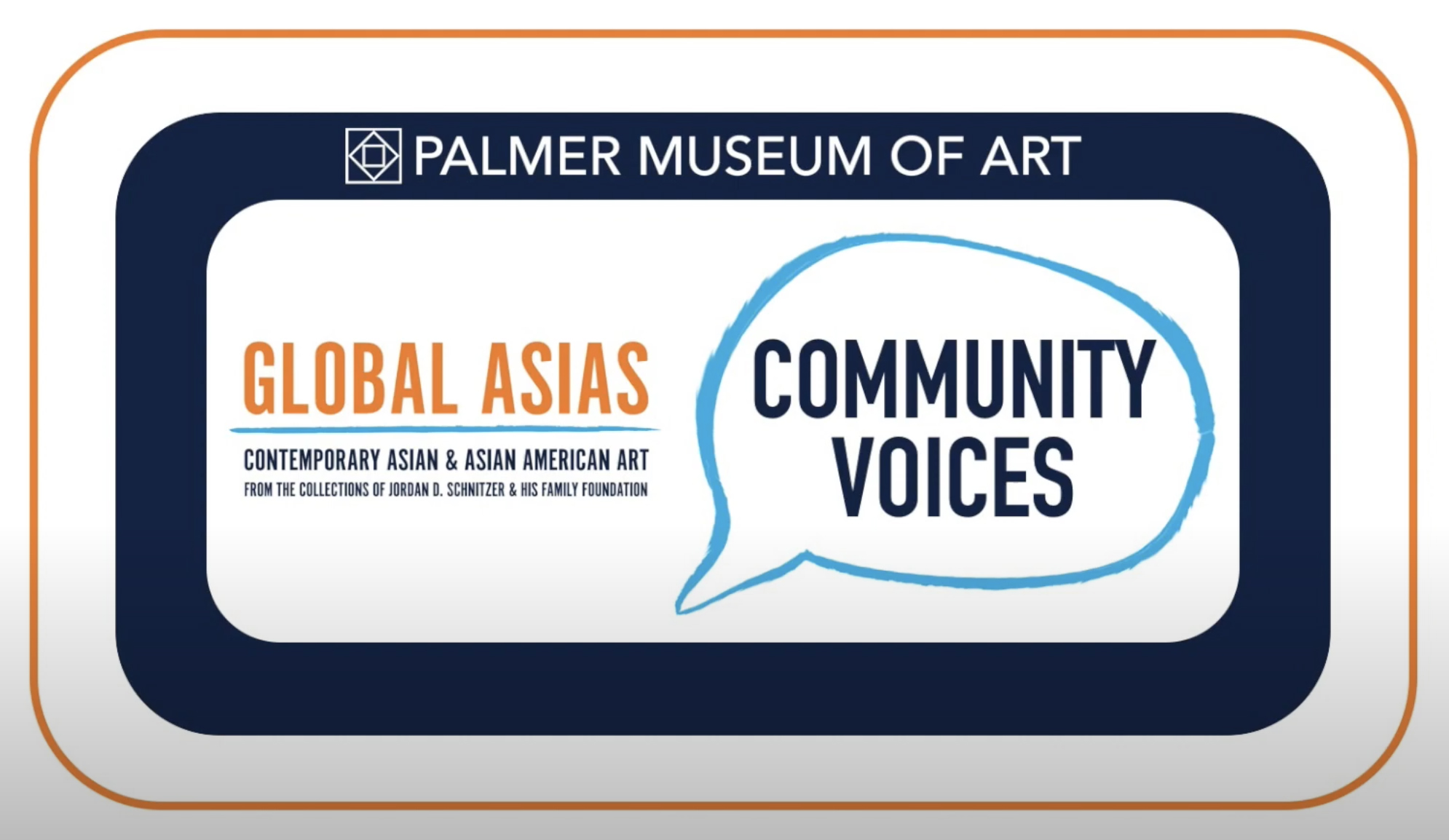 Community Voices from Global Asias
---
Development of Global Asias took place during a time when the United States saw an alarming increase in hostility and violence towards people of Asian descent. As a way to reconcile this disturbing trend with the exhibition's exploration of the multiple and interconnected Asian diasporas, the Palmer staff invited community members of Asian descent to contribute their personal perspectives. Members of the Penn State community offered insights and stories about their experiences of what it means to be identified as "Asian" or "Asian American." 
Click here for Community Voices.
---
Related Educational Resources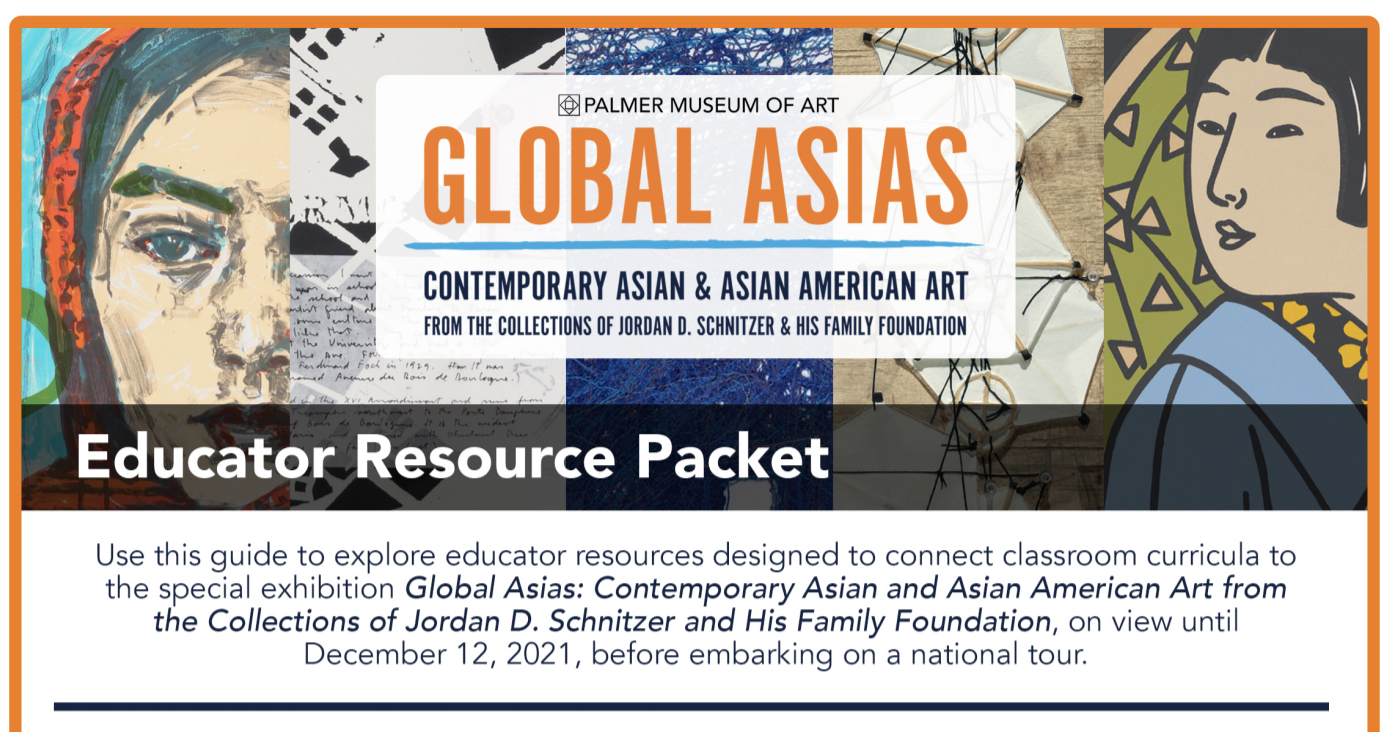 Global Asias Educator Resource Packet
This resource packet introduces K-12 educators to online resources and lesson plans that explore artists, concepts, and themes featured in Global Asias.
Downloadable Educator Resource Packet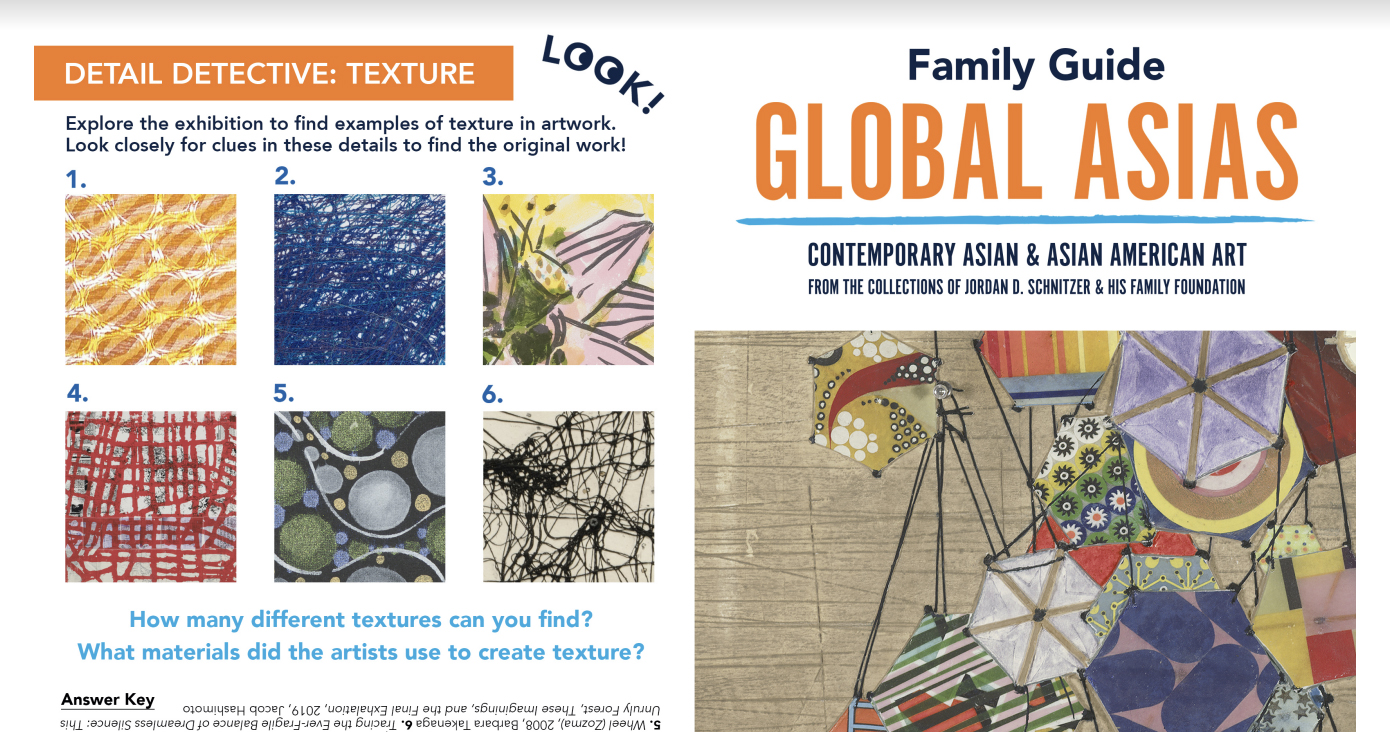 Global Asias Family Guide
Explore the exhibition using this printable PDF Family Guide (print version available in gallery). Learn about works in the show and follow artwork-inspired prompts connected to exhibition themes.
Downloadable Family Guide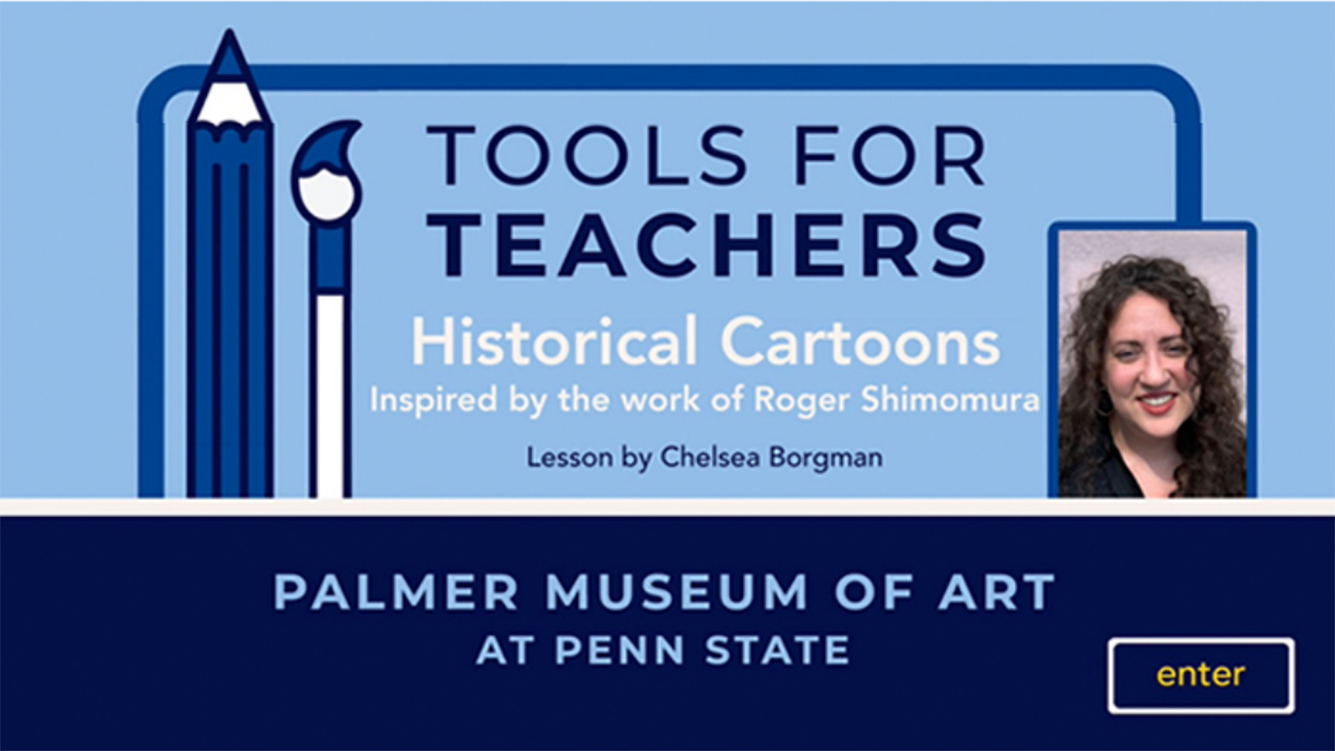 Tools for Teacher: The Historical Cartoons Lesson
This lesson focuses on artist Roger Shimomura and his use of cartoon imagery to depict history. Students use historical images to inspire their own piece of cartoon art.
Historical Cartoons Lesson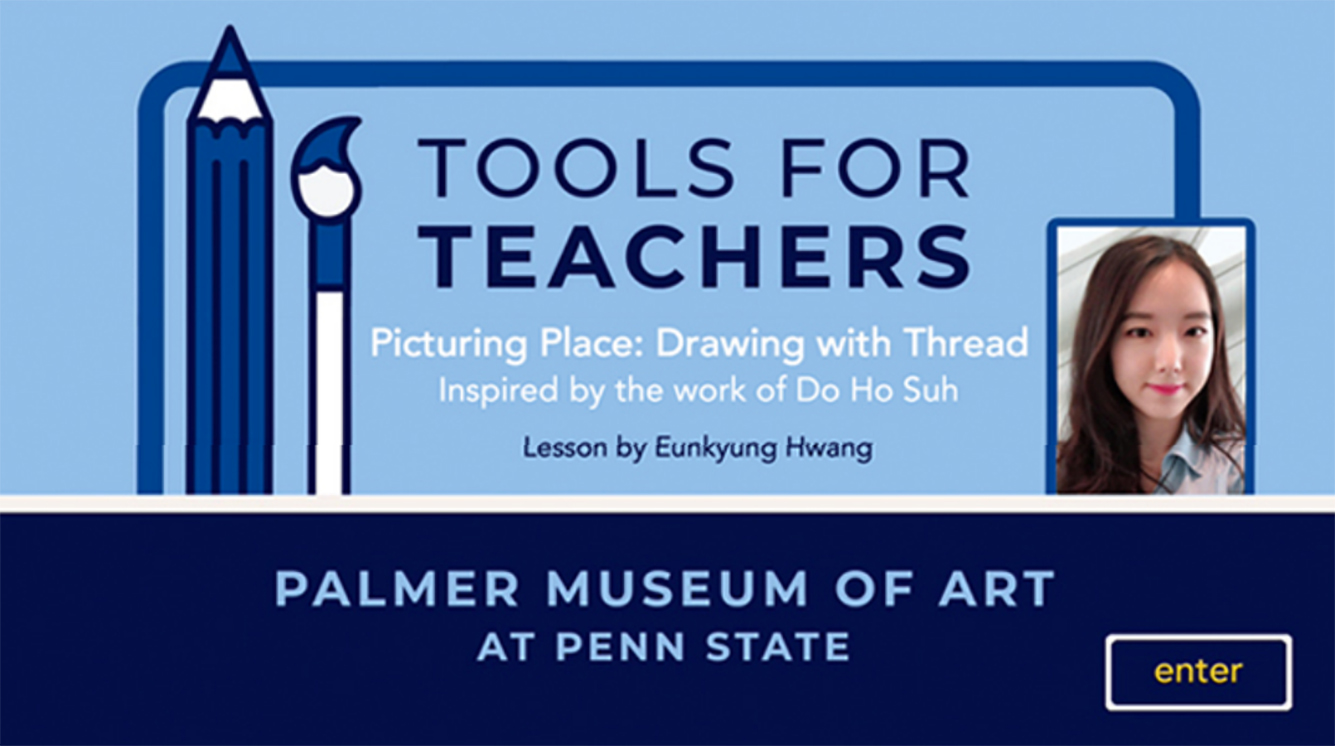 Tools for Teachers: Picturing Place - Drawing with Thread Lesson
This lesson is based on the art of Do Ho Suh and his use of thread as a drawing material. In this lesson, students will draw connections among memories, feelings, and place.
Drawing with Thread Lesson