---
Lesson Planning Resources
Museum educators and experienced teachers share "tried and true" lesson plans, images, and discussion guides featuring works from the Palmer's collection or special exhibitions in these online resources.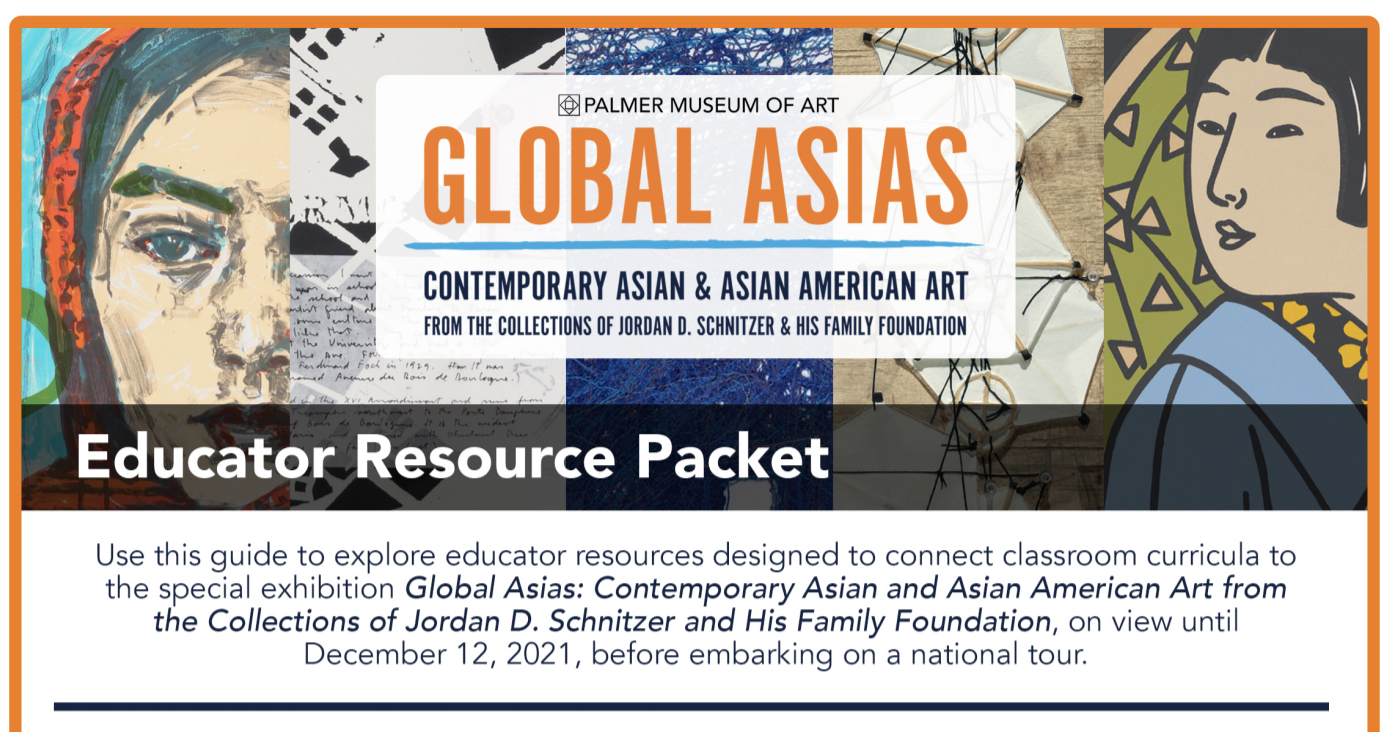 Global Asias Educator Resource Packet
---
This resource packet introduces K-12 educators to online resources and lesson plans that explore artists, concepts, and themes featured in Global Asias.
See below for a downloadable PDF of the Global Asias Educator Resource Packet.
Link to the Educator Resource Packet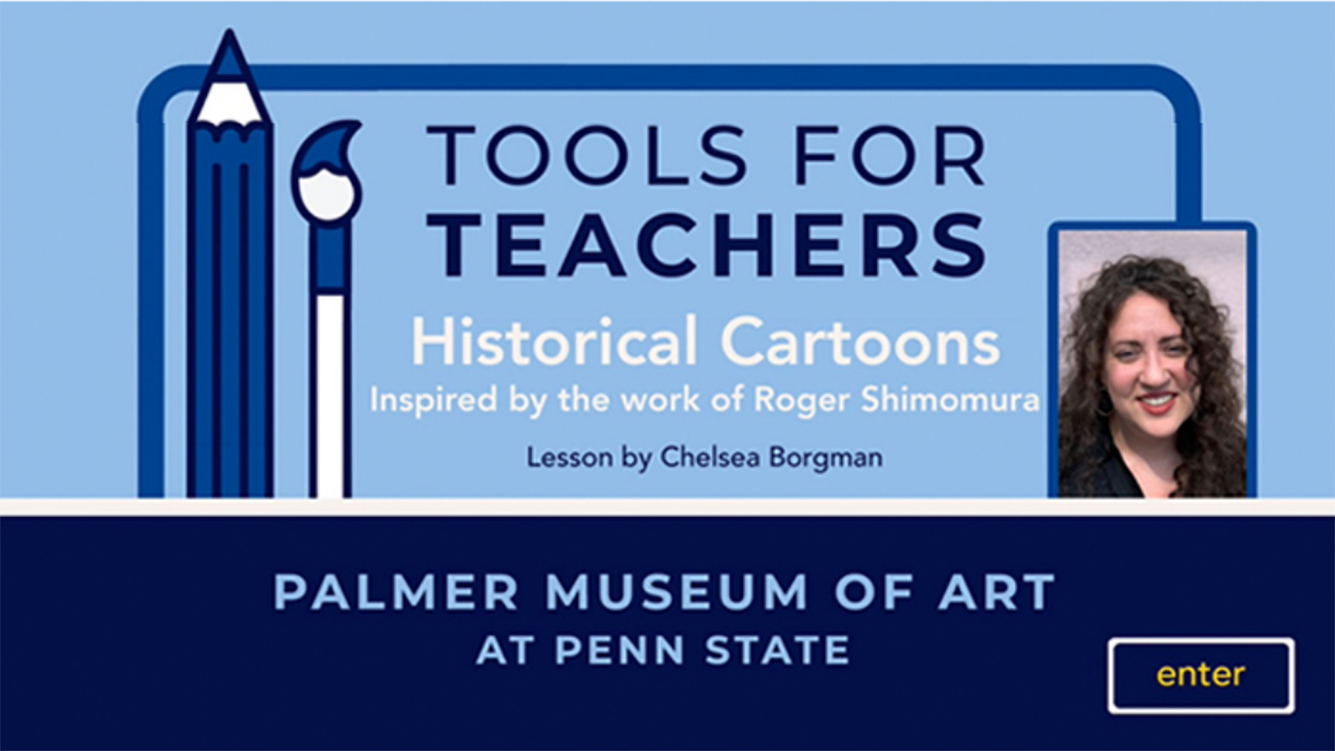 Tools for Teacher: The Historical Cartoons Lesson
---
This lesson focuses on artist Roger Shimomura and his use of cartoon imagery to depict history. Students use historical images to inspire their own piece of cartoon art.
Click here for the Historical Cartoons Lesson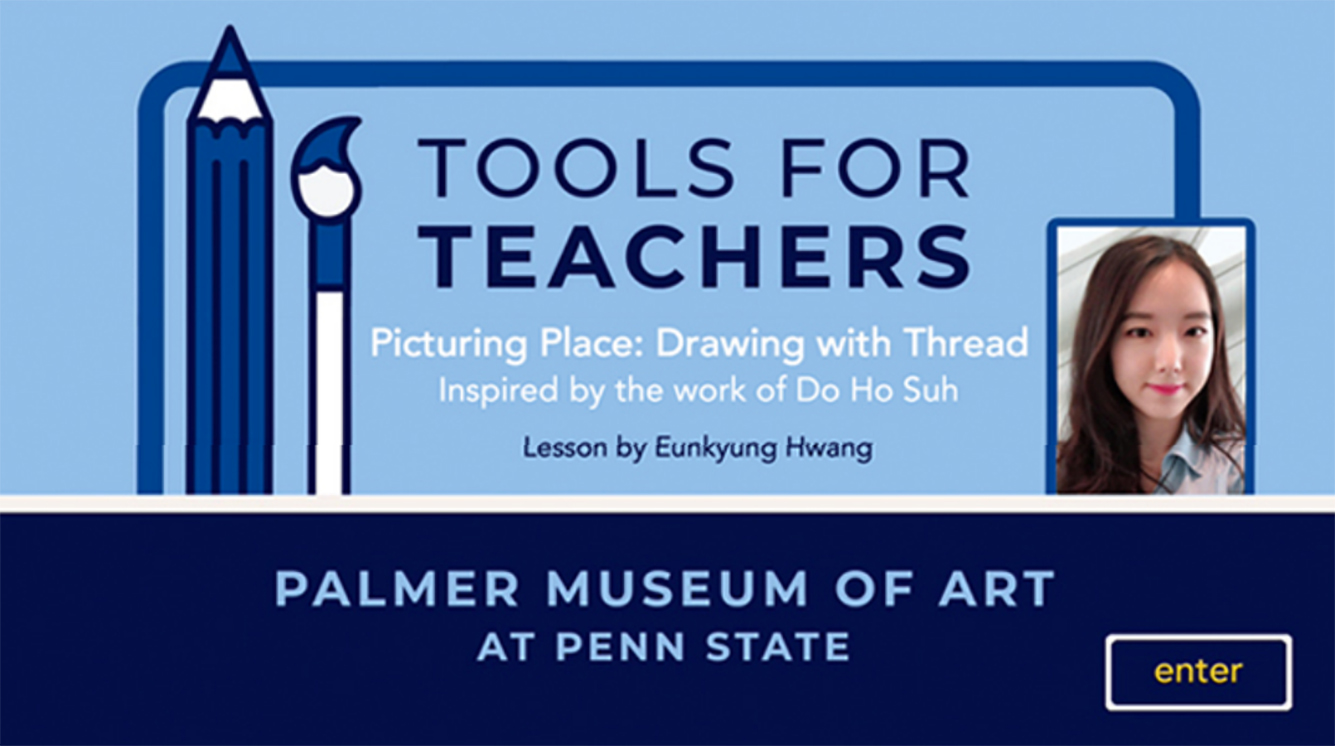 Tools for Teachers: Picturing Place - Drawing with Thread Lesson
---
This lesson is based on the art of Do Ho Suh and his use of thread as a drawing material. In this lesson, students will draw connections among memories, feelings, and place.
Click here for the Drawing with Thread lesson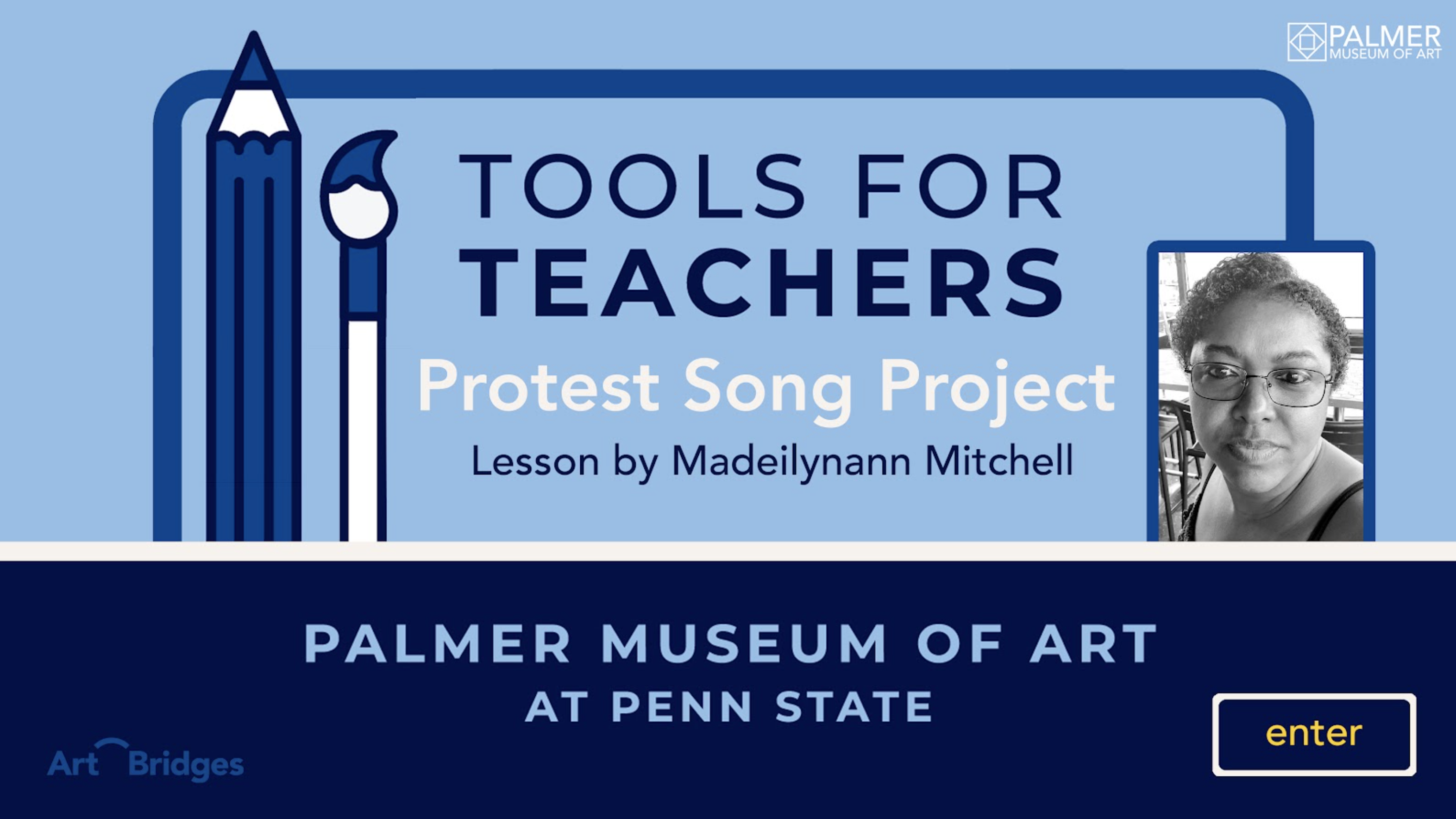 Tools for Teachers: Protest Song Packet
---
Secondary educator Madeilynann Mitchell shares a visual art lesson inspired by music, and Palmer Mueum educators identify works from the Palmer's collection to support this and other ekphrastic exercises. 
Click here for the Protest Song Project
---
Online Resources
These online resources provide video-guided exploration of selected artists, artwork, art concepts, and broader cultural themes through exploration of the Palmer Museum's collection. Include entire tours or selections from them in teaching plans, whether for class or individual exploration.
Online Resources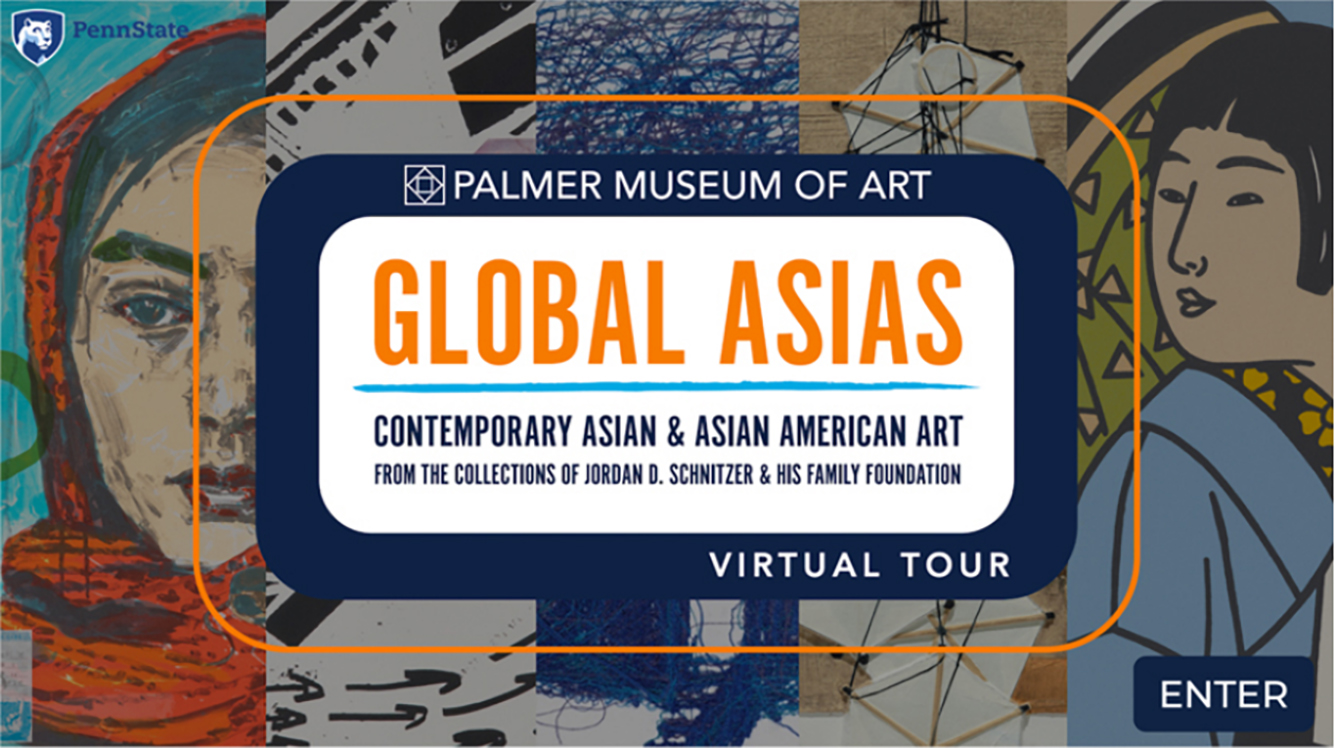 ---
Guided School Tours
Plan a field trip to the Palmer Museum of Art and create an engaging art experience for your students. Connect your visit to a subject area or unit theme, or hone your students' observation, critical thinking, and communication skills through meaningful facilitated group discussion focused on visual art. Inquiry-based teaching methods will encourage observation and analysis, while open-ended questions allow discussions to adjust to a variety of grade levels.
Select from one of the tour programs described below at least three weeks in advance of your visit date. Contact Museum Educator Brandi Breslin at bgb56@psu.edu if you have questions or to schedule a tour.
Museum Highlights

: Learn about some of the most beloved and culturally significant art in the Palmer Museum's collection. Your guide will select several works that represent the breadth and diversity of the permanent collection as well as items from special exhibitions. Grade level recommendation: 4

–

12

 

Elements of Art:

 Recognize how artists use and manipulate the elements of art— line, shape, form, space, color, texture—to create a wide variety of visual expression in different mediums. Grade level recommendation: K

–

5

 

Celebrating America

: Explore the Palmer Museum's collection through artworks that reference American symbols, culture, and history. From the Early American collection to contemporary works, this tour will explore how artists convey sentiments about the United States through art. Grade level recommendation: 2

–

3 

 

Who Am I? Art and Identity: 

Discover the identity of people pictured in works of art through observation of details, clues, and symbols, and reflect on what makes us who we are. Grade level recommendation: 5

–

12

 

Class Subject Tour:

 We welcome the opportunity to plan guided tours to connect with class subject matter and themes. Examples include Stories in Art, Picturing Community, and Art and the Natural World. Planning for this tour may take longer than three weeks, so contact us as early as possible.

 
Additional Guidelines for Planning Class Tours 
Group Size – The maximum number of visitors that may be accommodated for a guided tour is sixty (60). Groups of this size will be divided into smaller, separate touring groups to move throughout the museum concurrently. If you are scheduling class visits that need to stay together by class group, we prefer to limit each tour appointment to two classes.

 

Scheduling – Guided school tours last about one hour. School tours may be scheduled beginning 10:00 a.m. to 3:00 p.m., Wednesdays through Fridays.

 

Chaperones – Please plan to have two chaperones available for each class or touring group. 

 

Nudity in Art – The museum displays some artwork that features the unclothed human form. Guided tours for grades PreK

–

8 will not feature those works as part of the focused discussion. However, students may see these works while moving around the galleries. If you have concerns about this, please plan to visit the museum prior to your class visit, and then contact us to help make a suitable plan for your group.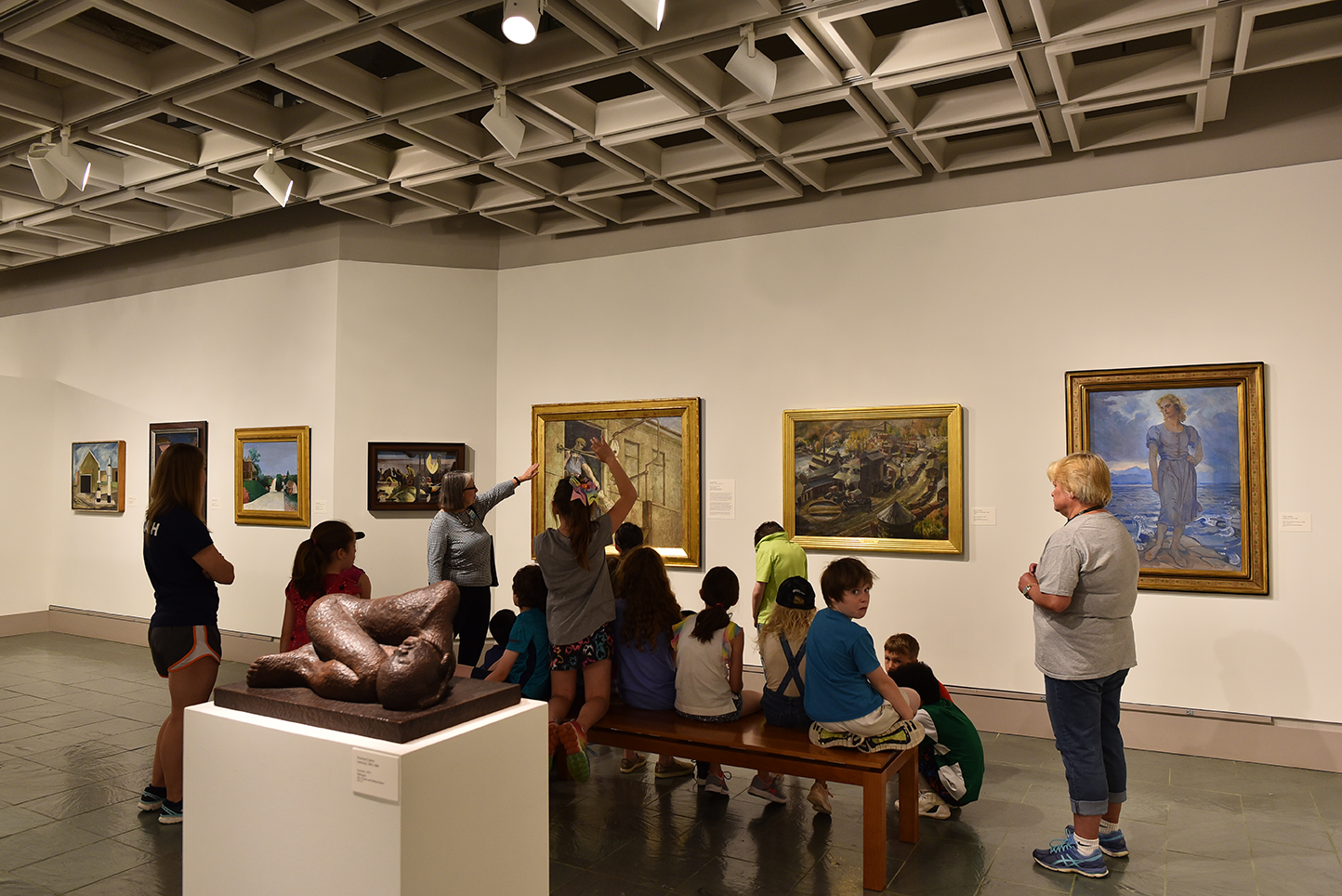 ---
Busing Program
The Friends of the Palmer Museum of Art are proud to support the K–12 school community in Central Pennsylvania by providing reimbursement for bus transportation costs on a first-come, first-served basis.
To request reimbursement, please complete the following: 
Follow the guidelines for requesting a tour outlined above and submit a tour request form at least three weeks in advance of your visit.

 

Note on your tour request that you are applying for bus reimbursement.

 

When your tour is confirmed, you will also receive confirmation on whether your visit is approved for bus reimbursement.

 

Visit the museum and complete your guided tour.

 

Within four weeks of your visit, download, complete, and return the bus reimbursement form to the museum along with the paid statement from the bus company. Contact

 

bgb56@psu.edu

for the form.

Please allow three weeks for processing. A check will be sent to the address indicated on the bus reimbursement form.

 
Please note the following maximum amounts for reimbursement: 
State College Area School District: Maximum reimbursement is $100 per school per academic year.

 

Pennsylvania schools outside of SCASD: Maximum reimbursement of $300 per school per academic year.

 
Bus Loading/Unloading and Parking 
School buses may unload children directly in front of the museum by stopping on Curtin Road. School bus parking is available in the Porter North Lot, located north of Beaver Stadium near the corner of Curtin Road and Porter Road.
---
Homeschool Groups
Homeschool groups can plan a visit using the school tour information and request above. Because of the mixed-age groups common with homeschool visitors, we ask that groups be limited to forty overall, including students, parents, and/or chaperones. Groups of this size will be divided into smaller touring groups of 10–15 people each, organized by student grade-levels: K–2, 3–5, 6–8, and 9–12. Please plan to have at least two parents/chaperones for each grade level group included in your tour plans.