---
Hours
Closed Mondays and some holidays
Tuesday, 11 a.m. to 5 p.m.
Wednesday, 11 a.m. to 5 p.m.
Thursday, 11 a.m. to 5 p.m.
Friday, 11 a.m. to 5 p.m.
Saturday, 10 a.m. to 5 p.m.
Sunday, Noon to 5 p.m.
---
Location
The Palmer Museum is located on Curtin Road at Penn State's University Park Campus in State College, Pennsylvania.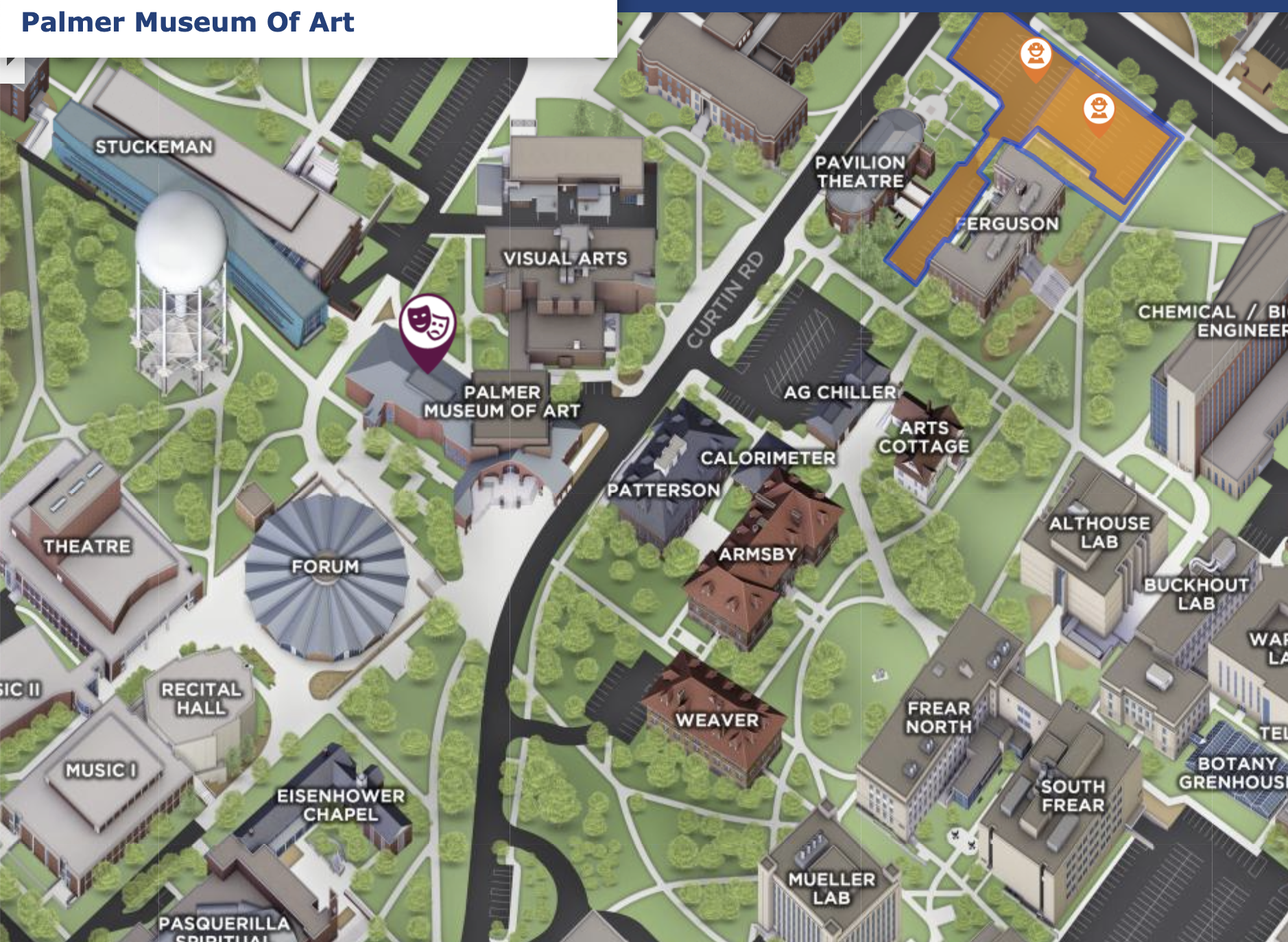 ---
Parking
Visitor parking for the Palmer Museum of Art is available for $1 per hour at the nearby Nittany and East Parking Decks. Visitor ADA parking spaces are available in campus decks and in lots adjacent to the Palmer with a one-day ADA visitor parking permit and a valid state-issued ADA placard or license plate. ADA Permits may be obtained from the University Parking Office in the Eisenhower Parking Deck off Shortlidge Road. The ParkMobile app can also be used to pay for parking and to find available parking during evening hours on weekdays and all-day Saturday and Sunday. For more information about parking or one-day permits, please call Penn State Transportation Services at 814-865-1436 or click here.
---
Tours
The Palmer Museum of Art offers free tours for the University, school classes, families, and community groups of ten or more people.
Click here to learn more about tours at the museum.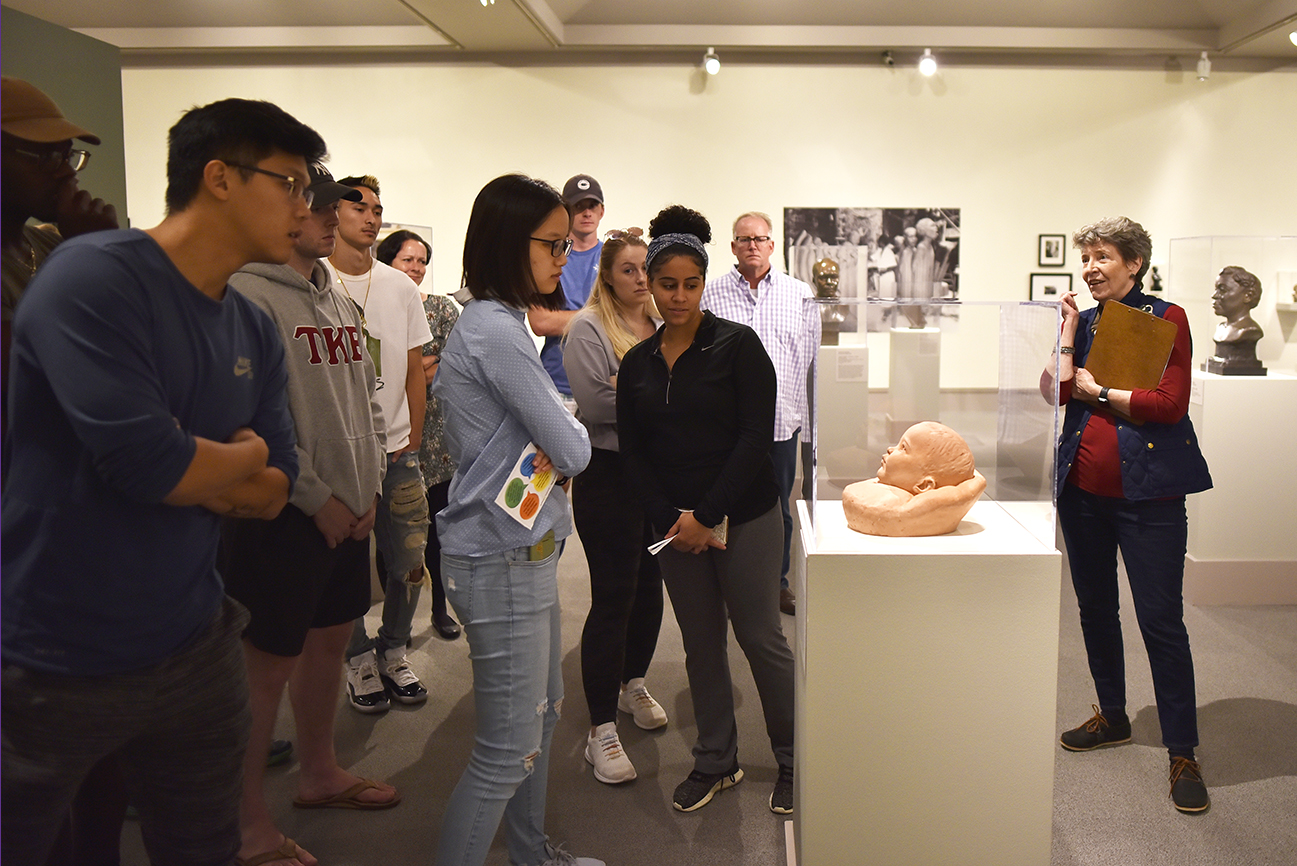 ---
Visitor Guidelines
To ensure the well-being of all our visitors and staff, we ask that you please comply with the following guidelines.
Check-in: Admission is FREE! Please check in for your visit with Visitor Services at the front desk. No prior reservation is required. Questions? Email PalmerVisitorServices@psu.edu or call the Visitor Services desk at 814-867-3022 during regular museum hours.

Bags: Large items such as backpacks, large bags, camera equipment bags, backpack-style child carriers, and umbrellas are not allowed in the galleries. Lightweight collapsible strollers are permitted, and umbrellas can be stored in the coatroom.

Sanitization: Throughout the day, we will be sanitizing high-touch areas in the museum. We will also have hand sanitizer stations located throughout the museum; please use them if needed.

Food and Drink: Food, beverages, and gum are not allowed in the galleries or auditorium. Travel mugs and plastic water bottles can be left in the cubbies in the coatroom.

Photography: Non-flash photographs are permitted and encouraged, except when indicated otherwise on labels next to artwork or on exhibition signage. Tripods and selfie sticks are not allowed in the galleries. Requests to videotape works of art/galleries or to photograph with tripods and camera equipment should be directed to Beverly Sutley, Registrar, at bxb35@psu.edu and/or Sarah Anne Wharton, Communications Specialist, at saw534@psu.edu.

Sketching: Sketching with pencils and colored pencils is allowed in the galleries. However, markers, ink pens, and other art supplies, including easels, are not permitted. An easy way to remember what is permitted is that "wet" or potentially messy art media including paints, ink, chalk, charcoal, and oil pastels are prohibited. Large drawing boards or sketch pads (over 18 x 24 inches) are prohibited.

Gallery Stools: Wooden stools are available for visitors' use and stacked in various locations throughout the galleries.

Wi-Fi: Complimentary wireless internet access is available in all indoor public spaces throughout the museum.
---
Follow Us
If you're not yet ready to come in person, no problem! We will continue to bring the museum to you virtually through our social media channels on Facebook, Instagram, Twitter, and YouTube.
Follow us on these channels to stay up to date! Have questions? Give us a call at 814-867-3022 or email us at PalmerVisitorServices@psu.edu.
Whether it's in person or on Zoom, we look forward to seeing you soon. Until then, stay healthy and well!
---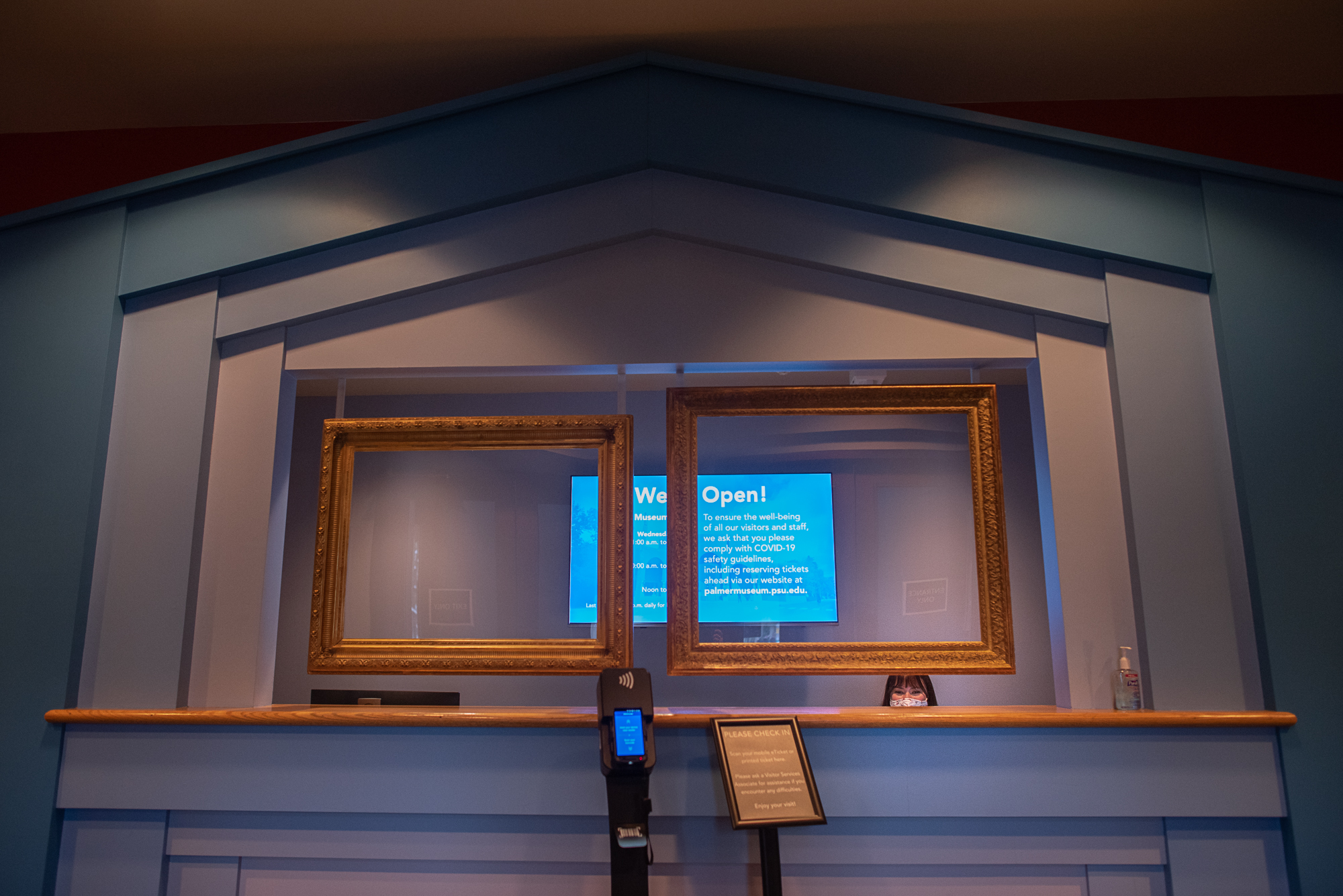 We hope to see you soon at the Palmer!